Snake Mountain Boatworks means:
Snake Mountain Boatworks is Michael Claudon, Joe D'Avignon and Anthony Warner. We know our way around, in, under and through wooden boats.
We Will:
Communicate with you while we work to uphold the highest standards of craftsmanship and return your boat to you when promised and without excuses.
Store your boat inside or outside in our facility that is protected 24/7 by sophisticated security systems. Let us address her issues small and large during the winter so she is ready to go in the spring.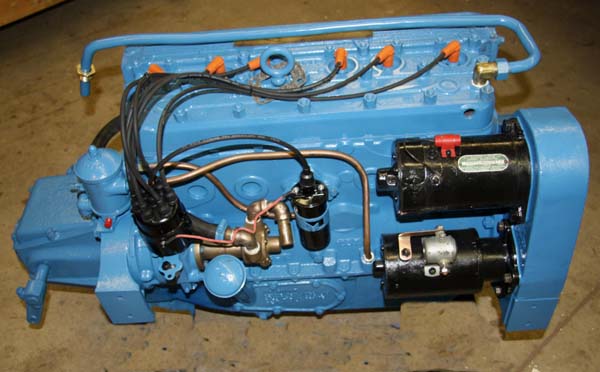 Full Restoration
When she left the Chris Craft factory in 1948, the company expected this seemingly beautiful and sound little Chris Craft Utility Deluxe to last 8 to 10 years at most. She was now over 60 years old, and, while her fit and finish were a bit rough here and there, and the hardware was ready for rechroming, she really looked pretty sound.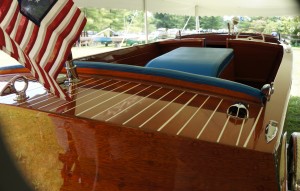 In fact, having tested the engine and finging that it ran pretty well, after running a hose into her bilge for 10 days to "soak her up," down to Lake Champlain we went for a test. She did pretty well, and even reached speeds of 40 MPH. But little did we know what lay between us getting back to shore and the water pounding the hull from below. Her bottom planking could not be salvaged. Ninety percent of her ribs were shot. The bottom bow in the transom was mostly dust.
Given her age, she almost surely has gone through several, and maybe as many as six major overhauls. But she was ready again, as is the case for most of the boats that come into the shop. We make every effort to save every stick of original wood that we can, but not at the scrifice of delivering a sound boat back to her owners.
We source our marine hardwoods and plywood from Americas' Wood Company in Washington, ME, and from the A. Johnson Company of Bristol, VT, and use nothing but FAS Pattern Grade lumber in our restorations.
D&S Custom Metal Restoration, 102 Cabot St, Holyoke, MA, is our go-to shop for metal restoration and chrome plating. Mickey Dupuis and his incredible crew have earned their nationally-recognized reputation for delivering only show quality work. Mickey can be reached at 413-533-7770, or [email protected]
Following are links to examples or our work that support our contention that we uphold only the highest standards of craftsmenship:
A lesson in fiberglass blistering "repair."
Watch a 1948 Christ Craft Utility Deluxe aft deck replacement.
Watch the decks being removed from a 1967 26′ Lyman Cruisette
Gunwales gone bad on a Lyman Cruisette.
And now watch the deck-removing finale
Watch steam bending of a Lyman Cruisette's forward port rub rail.
Watch a 26′ Lyman Cruisette fly.
The 26′ Lyman Cruisette has landed … on dollies.
Watch as the fully-restored 1957 Century Resorter leaves the shop for delivery to her owner.
Watch as the Drake, a 26′ Lyman Cruisette emerges from a complete hull, deck-framing restoration and installation of exquisite seamed teak plank decks.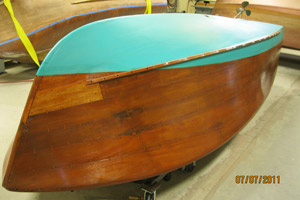 Leak-free 5200 Bottoms
My first encounter with an old wooden boat involved helping a neighbor down at our camp on Lake Champlain "soak in" his beautiful little wood-planked outboard. Soaking it in meant exactly that. We launched it in late May, and Pete stood there watching as his boat quiter literally sank until it was lying on the bottom in about a foot of water at the Lake's shore. "There. We can come back tomorrow and pump her out and see if she's ready to float."
Well, finally she did float, but all summer Pete was plagued by leaks.
There had to be a better way! Fiberglassing the bottom would keep water out, but only at a high cost. Boats are in water and they ship water, or get rained upon. At least some of that water seeps through the bottom planking and sits there between wood and fiberglass. First the planking and then the framework rots from the wet side in.
Ahh…. then how about removing the entire bottom planking and applying copious amounts of West System Epoxy between the frames and bottom planking? Not only does doing so create a variation on the fiberglass problem, wooden boat hulls flex as they race through the water. West System does not flex, however, so the first hard hit translates into failed epoxy and, yes, leaks anew along with the rotting.
While SMB was still in its conceptual/research phase, I Googled "5200 bottom" and found the answer to this quandry in an excellent article titled, "What is a 5200 bottom and why should I have one?" This article in the Antique Boatshop Web site offers a rich historiography along with superb and highly actionable content. The following excerpt describes what it is, and the balance of the piece will tell you why you should have one:
"A '5200 bottom' as it's known in the wood boating community is where you remove the current bottom, make repairs or replace damaged frames and chines, tighten and/or replace all frame bolts….then use new mahogany planking supported by marine grade plywood as the inner layer sealed in a proper and flexible wood sealer. The new lumber is attached with silicon bronze fasteners and 3M 5200 adhesive in lieu of the lead soaked canvas between the inner and outer layer. The 5200 product comes in a caulk tube which is applied to the inner layer (marine grade plywood) before attaching the outer mahogany planking."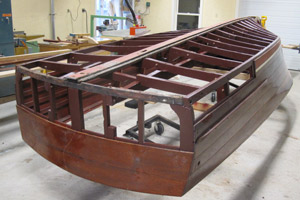 AT SMB, the 5200 is also applied to the framework to which the plywood is attached, but only after all surfaces of the framework and marine plywood receive two liberal coats of Smith's Clear Penetrating Epoxy Sealer.

Chine, Plank & Frame Repair
As with all other aspects of our work, Don Danenberg guides our frame work, planking and cosmetic work.The 1948 Chris Craft Utility Deluxe shown here was in dire straits upon arrival. We replaced the gripe and knew, 90% of the ribs, and the lower transom bow. And then re- installed a "5200 bottom" that included entirely new planking. Two transom planks and the below-water-line port and starboard planks were steam bent and replaced as well. All surfaces were treated with mutliple coats of Smith's Penetrating Epoxy Sealer, and all joints and planking were secured with Frearson-head silicon bronze fasteners and 3M 5200, as is the case with every boat we work on. Watch keel rabbeting on a 1956 Century Palomino.

Strip & Refinish
We tried all manner of chemical strippers. In a phrase, what we got for our efforts was a big mess every time. And no matter how careful we were, these harsh chemicls either ate whatever we wore for gloves, or, in the case of one water-based "stripper," failed to burn our skin but also failed to release anything but tired topside paint.
DeWalt offers a great heat gun, and Sandvik sells expensive but highly effective and super-tough scrapers. We now remove all sorts of finishes without the gooey mess, without burning our skin, and without leaving chemical residues in old mahogany and oak.
Watch us complete the deck striping on a 1957 Century Restorter.
Varnish & Paint
The SMB crew is well-schooled in the art of delivering "miles-deep" brightwork using Epiphanes and Le Tonkinois clear, high-gloss varnishes and hours of elbow grease.
Our bilges receive either Sandusky Bilge Paint or Interlux Bilgekote only. Yes, other brands are available, but none stand the test of time and abuse like Sandusky and Interlux products do.
Interlux is our go-to supplier of bright topside and boot stripe paints, becuase these products set the standard for competitors to equal.
Engine, Mechanical and Electrical
The SMB crew brings a combined 50+ years' experience building, repairing and upgrading all manner of engines, drivelines, transmissions and the like. Sorting out electrical and wiring issues, from a single circuit to rebuilding entire harnesses sits squarely within our sweet spot as well.
However, when faced with freeing and rebuilding seized engines, machining cylindars and cranks and cams, we turn to one of the country's foremost outfits, Restoration and Performance Motocars, with whom we have an exclusive relationship. Headquartered a scant 10 miles from our shop, RPM, which built its reputation for restoring classic European motorcars to nothing but the highest standards since it was established in Vergennes, VT, in 1986.