"Flyin' By" (Hull #48264)
Best of Show, July 2017 Lake Champlain ACBS Antique Boat Show
Offered at $65,000 – SOLD
Flyin' By was delivered to her first owners in Detroit, MI on August 12, 1937. The Aikens family of Bloomfield Hills, MI purchased her in 1960, and enjoyed her on Michigan's Lake St. Clair until July 2016, when her stewardship passed to Shirley and Michael Claudon of Weybridge, VT.
Flyin' By
Is a 19-foot (racing) Model 824
Is powered by and original Chris-Craft Model LC flathead 6 engine has twin Zenith carburetors
Develops 148 HP and 40 MPH at 3500 RPM
Stands before you today, almost exactly as she was 80 years ago when she left the Chris-Craft factory in Algonac, MI

Save for evidence of several small inconsequential repairs. her framing and planking are original
Her traditional bottom is original
All of her hardware, gauges, Clum switch, steering wheel and on and on are original
Only her Corinthian leather upholstery and her updated 12volt electrical system that were installed in 1980 are not original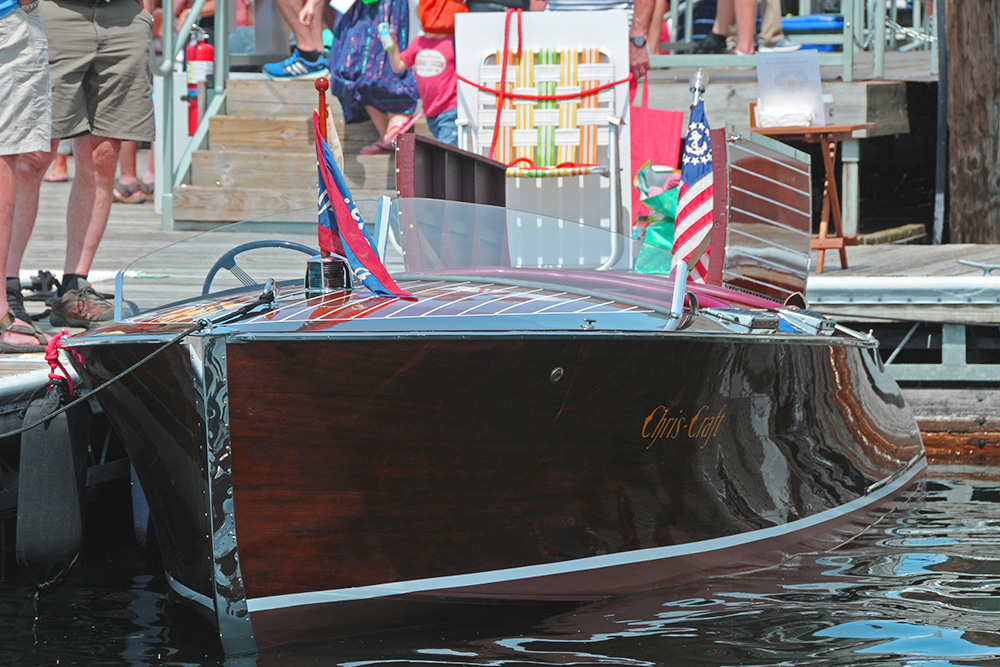 By the fall of 2016, her
Ancient varnish had finally dried and lost its integrity in too many places
Once brilliant white deck seams were severely cracked, split and discolored
Evidence of fastener failure and discolored wood bungs
Chrome plated hardware and stainless trim were far from show quality
Flyin' By emerged from the shop on May 11, 2017, with stunning results
Captain Stan Walker, AMS, Marine Surveyor, conducted a comprehensive survey in May, 2017, concluding that Flyin' By is in Bristol Condition in every way. (Copy available upon request.)
Flyin' By won Best of Show in the 2017 Lake Champlain Antique and Classic Boat Society Boat Show.
After applying 24 coats of varnish and waiting 31 days for it to cure, we polished it to its mirror-like gloss.
Joanie Alden, Vital Signs in Colchester, VT, hand painted her "Flyin' By" transom lettering and "Chris-Craft" hull tags, exactly matching the originals.
Mickey Dupuis, Custom Metal Restoration in Holyoke, MA, transformed OK hardware into jewelry.
Shauna Lawrence, Kocian Instruments, Forest Lake, MN, preserved the gauge cluster and Clum switch to perfection.
A Fireboy Clean Agent Fire Extinguishing system and a Fireboy M-1 Gasoline Fume Detector were installed.
Watch her on YouTube: