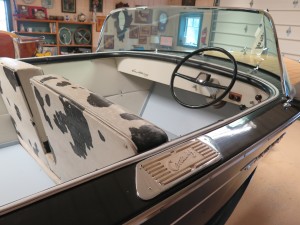 Offered at $13,750: 1956 16-foot Century Cowhide Palomino & Tee Nee Trailer
With hull number "P5652" is still stamped on her transom, this completely preserved 1956 "Cowhide" Century Palomino is as original a boat as I have ever seen. We did not replace a single scrap of wood.
She is a one-owner boat and among a tiny number, perhaps as few as 2-4, survivors of the cowhide-upholstered, black Palomino model that Century built for a single year.
Details:
Save for her burgee, stern flag and seat cushions, which we had fabricated using the same 1956 NOS cowhide fabric, from the same vendor that Century Boat Company used in 1956, every bit of her upholstery is original.
The bottom planking was stripped bare, received 3 coats of CPES, primed with 5 coats of Interlux 2000E Marine barrier coat, followed by 4 coats of Pettit hard racing bronze.
The topsides, transom, decks and covering boards were stripped bare and sealed with 3 coats of CPES prior to applying 12 coats of Pettit High-Build varnish and 6 coats of JD Total Boat Wet Edge topside black paint.
The hardware, windshield, stainless trim strips, Century hull tags and windshield, are all original, and were fully restored by New England Chrome Plating, East Hartford, CT.
Fran Secor of Otego, NY, executed a comprehensive rebuild and cosmetic engine preservation.
The original 1956 Tee Nee trailer has been completely disassembled, sand blasted, re-painted and reassembled. The wiring and wheel bearings are new.

Videos: